Program Officer, the Leona M. and harry b. helmsley charitable trust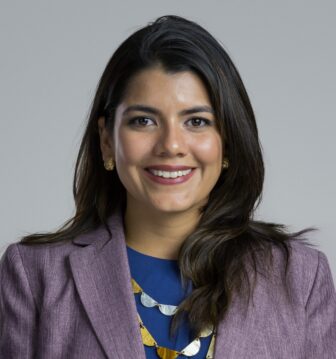 Estefania Palomino is a Program Officer for the Helmsley Charitable Trust's Type 1 Diabetes (T1D) Program. In this role, she manages the design and implementation of the global strategy to improve access to T1D care and insulin in low- and middle-income countries.   Prior to joining Helmsley, Estefania led the Latin American division of the Wyss Foundation and provided strategic direction and management for philanthropic projects focused on women's healthcare in 16 countries. Estefania has worked as a staff attorney at one of the largest law firms in Colombia, Brigard & Urrutia, served as a visiting professional at the Inter-American Court of Human Rights, and co-founded the public interest law firm, IVO Legal. During 2014, she worked as a Global Health Corps fellow at Planned Parenthood, coordinating advocacy strategies for sexual and reproductive health and rights in more than 10 countries in Africa and Latin America.
Estefania holds a law degree from Universidad de Los Andes, a master's degree in international law and settlement of disputes from the United Nations University for Peace, and an LL.M in global health law from Georgetown Law School. In 2015, she was selected as an Aspen Ideas scholar and as one of the "10 Young Leaders Who Are Creating A Better World" by Johnson & Johnson and the Huffington Post. In 2017, Estefania was one of the four finalists for the Buffett Institute Award for Emerging Global Leaders.